LG U+ makes efforts to promote a work environment in which employees can show their utmost abilities
LG U+ runs various programs for employees to improve themselves according to their personal aspirations. By providing differentiated treatment and rewards according to the performance of individuals and teams, the company promotes a system in which employees are recognized based on their abilities and outcomes.
---
Talent Fostering
Human resources development system

With a strong belief that nurturing talents is key to securing competitiveness and market leadership, LG Uplus has in place a comprehensive range of talent development programs.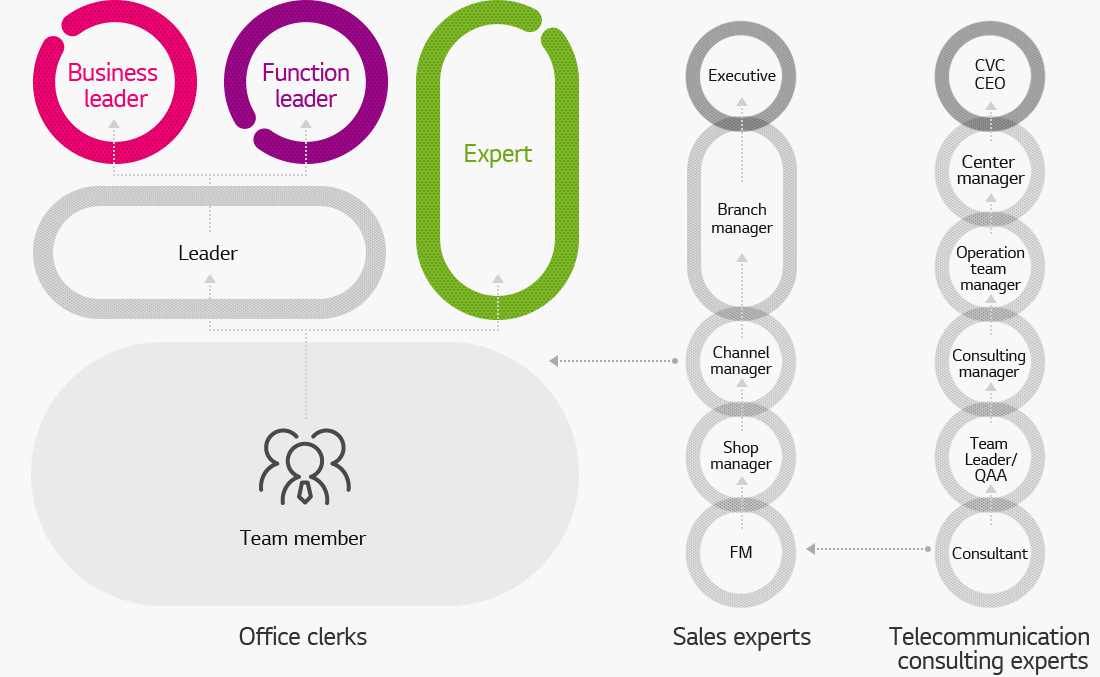 ---
Appraisal / Reward
LG Uplus appraises the achievements of each employee and their level of development through a fair and objective appraisal system and utilizes the results when deciding additional training and rewards.
Appraisal

· Establishment of goals of achievement/abilities
· Periodic check and feedback of achievement of the goals

Rewards

· Adjustment of annual salary
· Incentives
· Performance-related pay

Career development

· Appointment of duties
· Change of titles
· Establishment of career paths
· Face-to-face counseling
---
Welfare Benefits
LG Uplus has diverse welfare benefits in place to boost the work morale and improve the life values of employees.
Leave

Annual paid holidays
Refresh vacation system
Expenditures/vacation for commendations and condolences
Maternity support: Time-off for checkups during pregnancy, time-off before/after delivery, maternity/paternity leave, shortened working hours during early parenting period, etc.

Telecommunication fees

Full support for telecommunication fees
(KRW 480,000 for Customer Center)

Residential/life support

Support for children's tuition fees
Child birth celebration program
Child's school entrance celebration program
In-house childcare center

Medical support

Support for general checkup
Support for medical expenses
Psychology consultation room

Multi points

2.2 million points a year
(1point = KRW 1)
1.8 million points for Customer Center

Self-development/
leisure activities

Support for tuition fee
Discount on resort facilities
In-house fitness center
Operation of informal groups (clubs)
Support for sports tickets (baseball, soccer, etc.)

Corporate product discount

Discount with LG Family Card
Online shopping mall exclusive for employees