SustainabilityVision & Strategies
LG U+ aims for sustainable growth to contribute to the sound change of the community based on its ICT capabilities
Telecommunication is a vital infrastructure that enables convenient and smart world. Upon the popularization of internet and smartphones, the society is evolving into a new format at an unprecedented speed. LG U+ believes that our responsibility lies on making changes into the one that produces positive outcome and contributes to the healthy growth of communities. LG U+' goal is not on simply earning profits but creating shared-value that embraces both economy, society and environment values and achieving sustainable growth in return.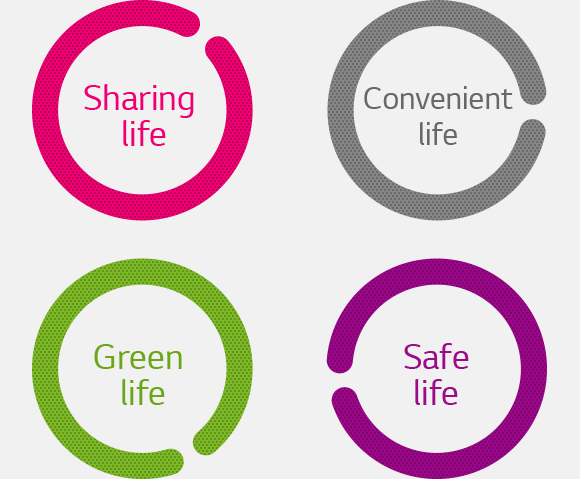 Core values for sustainable management
With 'Sharing Life', 'Convenient Life', 'Safe Life' and 'Green Life' as the 4 core value areas, LG U+ finds the related issues and reinforces the power of each value. 'Sharing Life' means that LG U+ grows with all its stakeholders through win-win relationships. 'Convenient Life' means the ICT services that promote a convenient life for customers. 'Safe Life' means the services that resolve security issues. Finally, 'Green Life' means the recognition of climate change issues and promotion of green projects. LG U+ will sincerely live according to the 4 core value areas, and develop projects which link services with common interests, contributing to sustainable growth.