Safety and Health
LG U+ complies with laws and regulations on safety and health. CHO and Real Estate / Safety Management Officer oversees the
Safety and Health Division and assigns personnel in charge of safety and health.
By doing so, LG U+ exerts every effort to create a safe and clean working environment while fulfilling its social and legal responsibilities concerning safety and health.
Offering employees training on safety and health
To raise the employees' awareness of safety and health, LG U+ offers training on safety and health in compliance with the Occupational Safety and Health Act.
Its regular training programs include quarterly safety and health training, onboarding for the newly recruited, training for supervisors,
and occupational training for safety and health managers.
[Company's Safety and Health
Management System]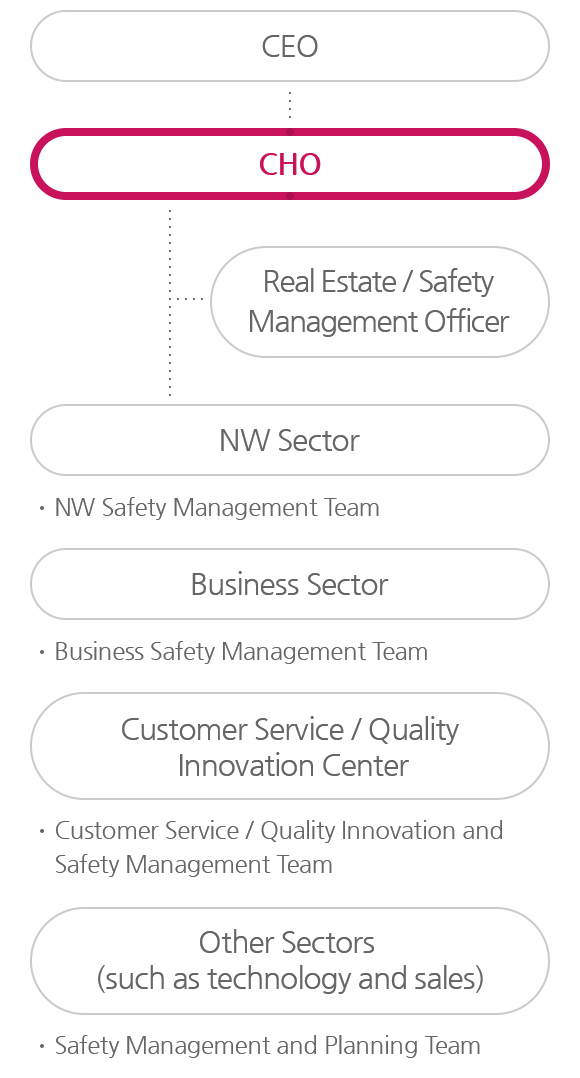 Safety Simulation Training Center
LG U+ has opened the Safety Simulation Training Center at Daejeon R&D center and acquired the certification from the Korea Occupational Safety
and Health Agency for the first time in the industry.
Equipped with theory-based and simulated training facilities based on a good understanding of the telecommunication business,
it enables its employees to understand, experience, and prevent various safety incidents and emergencies in the workplace.
In the future, it will expand the scope of simulated training for its partners and guests so that it can raise people's awareness of safety incidents and
create a culture of safety in local communities.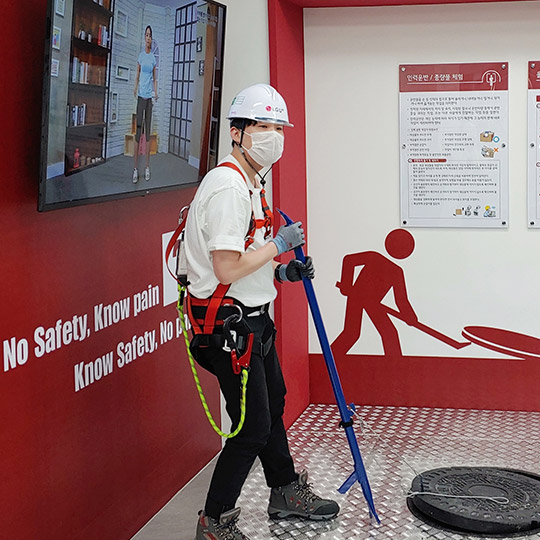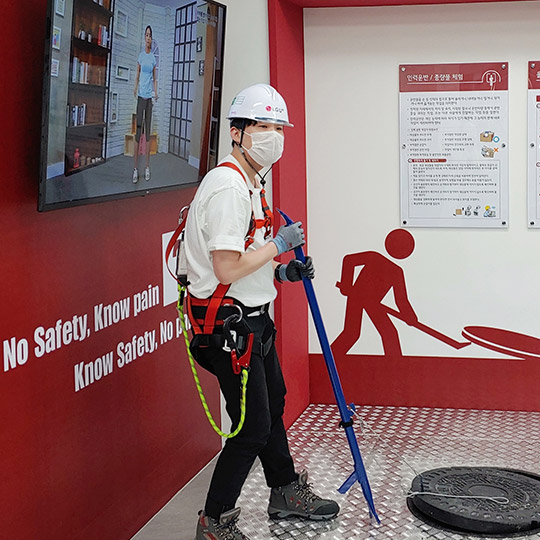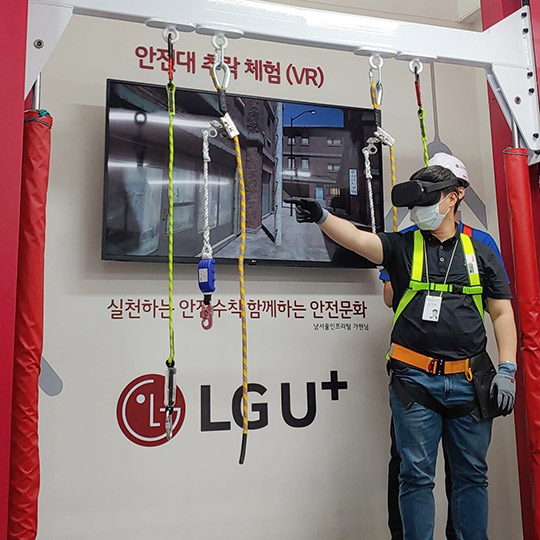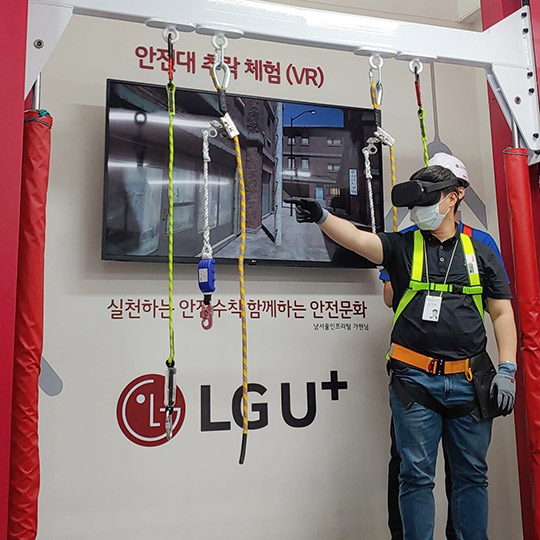 COVID-19 Control and Prevention
To protect its customer service officers at higher risk from COVID-19, LG U+ regularly provides them with personal protective items such as face masks and hand sanitizers.
To help its employees comply with the guidelines for the prevention of COVID-19, it regularly distributes the guidelines and leads
a campaign to encourage people to share them via text message.
For the prevention of COVID-19 spread, all the employees take turns coming into work and working from home.
Furthermore, LG U+ also helps long-distance commuters, field workers, and remote employees work at a newly opened base office.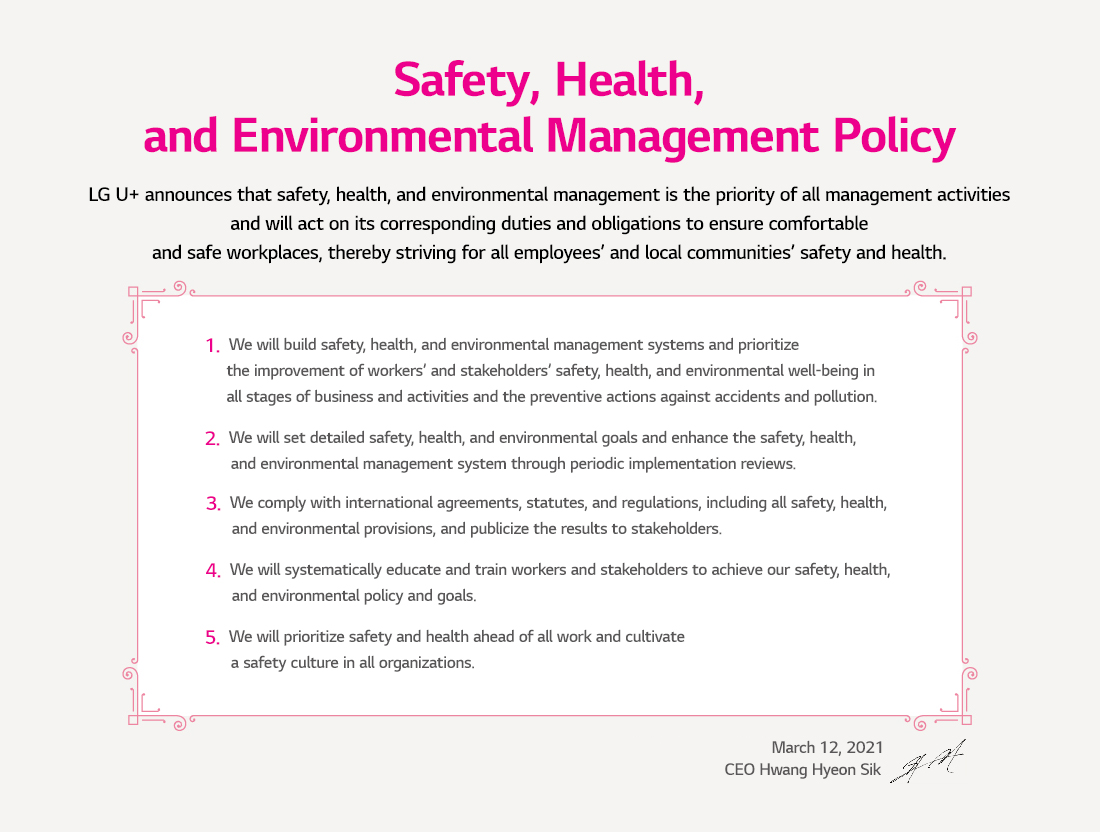 LG U+ announces thar safety, health, and environmental management is the priority of all management activities and will act on its corresponding duties and obligations to ensure comportable and safe workplaces, thereby striving for all employees' and local communities' safety and health.
1. We will build safety, health, and environmental management systems and prioritize the improvement of workers' and stakeholders' safety, health, and environmental well-being in all stages of business and activities and the preventive actions against accidents and pollution.
2. We will set detailed safety, health, and environmental goals and enhance the safety, health, and environmental management system through periodic implementation reviews.
3. We comply with international agreements, statutes, and regulations, including all safety, health, and environmental provisions, and publicizie the results to stakeholders.
4. We will systematically educate and train workers and stakeholders to achieve our safety, health, and environmental policy and goals.
5. We will prioritize safety and health ahead of all work and cutivate a safety culture in all organizations.
March 12, 2021. CEO Hwang Hyeon Sik