Local Communities
LG U+ follows its vision to use information and communication technology (ICT) to connect people and make the world a better place to live through sharing.
It has been making social contributions not as a one-time activity but with great sincerity to create a world where we live together with the socially disadvantaged
and local communities. It aims to create an indiscriminate society for all with four core values in mind: "Sharing Life," "Free, Convenient Life," "Safe Life," and "Green Life."
[LG U+, a Kind-Hearted Company
with Stories of Sharing]
Sharing Life

Sharing activities to grow and coexist with various stakeholders

Free, Convenient Life

Diverse activities using ICT services that can benefit customers

Safe Life

Social contributions in relation to safety services

Green Life

Eco-friendly projects in response to climate change
CSR Partnerships and Communication with Local Communities
LG U+ builds partnerships with NGOs to make social contributions and spread love to neighbors.
By regularly communicating with NGOs to meet the demands from local communities, it has been making contributions to society as necessary.
CSR Programs for Employees
LG U+ supports various social contribution activities so that more employees can find joy in sharing across different fields.
CSR Programs for Employees Program

| Program | Description |
| --- | --- |
| Volunteer Time Off | Employees can take paid volunteer time off for a maximum of eight hours. |
| Coverage for Volunteer Program Costs | The costs will be covered when a group of three or more employees volunteers together. |
| Coverage for Volunteer Program Supplies | The items required for volunteering such as a vest and apron will be provided. |
| Sharing Mileage | Employees can claim sharing mileage based on the number of hours they spend volunteering. Based on their cumulative mileage, they may win a CSR gift. |
Contributions to
Local Communities
Overcoming the COVID-19 Crisis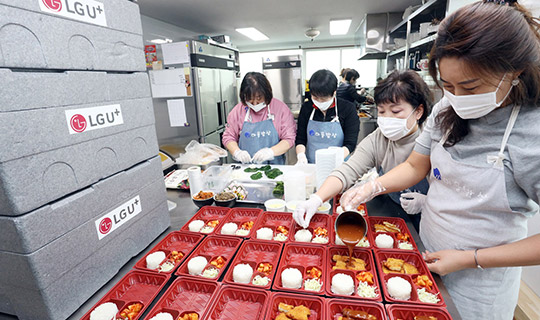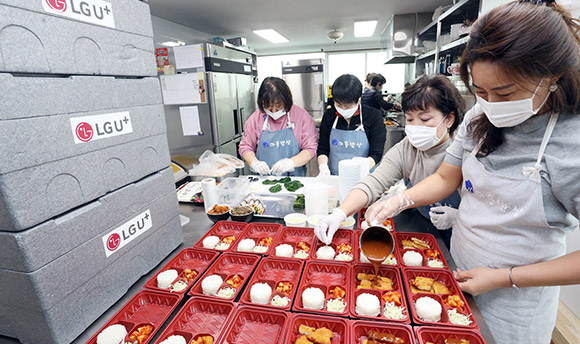 Free meals for children from low-income families in Yongsan-gu

LG U+ made a group purchase of eco-friendly agricultural products from the farmers who used to be the suppliers of ingredients for school meals and are now in the financial crisis because of the spread of COVID-19 and the postponement of return to school. Furthermore, LG U+ also provided free meals and snacks to children from low-income families in Yongsan-gu who skip meals or are now at risk of malnutrition due to the closing of child-care facilities until the school semester began.
100 cellphones for healthcare professionals in Daegu and Gyeongsangbuk-do

LG U+ offered 100 cellphones for healthcare professionals in Daegu and Gyeongsangbuk-do who have been working hard for the prevention of COVID-19 spread. All the cellphones have been successfully delivered and used to manage the confirmed cases for COVID-19 or give consultations in emergencies.
Reduced phone service charges for small business owners

LG U+ reduced phone service charges for small business owners who suffered financially or were forced to shut down for a long time because of the COVID-19 crisis.
Supporting the Socially Underprivileged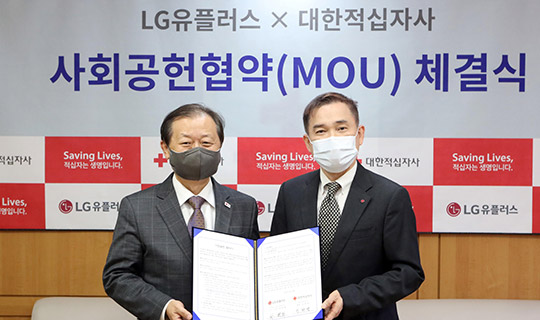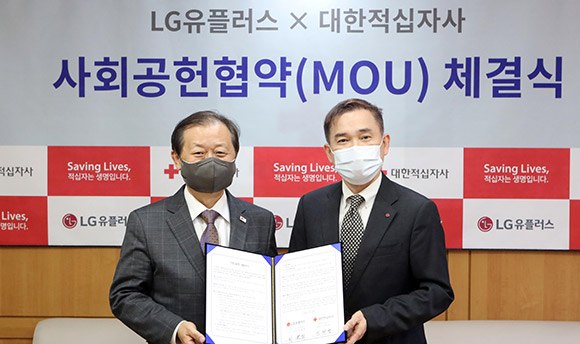 U+'s cheap mobile plans in which 10% of the mobile service fees will be donated

LG U+ launched a new charitable plan named "Windmill of Hope" in which 10% of the monthly phone charges are automatically donated to the Korean Red Cross. The donation will be made in a customer's name, which will be used for COVID-19-related humanitarian aid or the socially underprivileged. You can deduct the amount of donations in one year on a year-end tax return.
U+House of Hope

LG U+ carried out a volunteer home remodeling event named "U+ House of Hope" in collaboration with Habitat for Humanity Korea so that our underprivileged neighbors can stay warm in winter. Since 2018, LG U+ has been raising executive funds each year with the participation of all the executives. In 2020, it successfully renovated the women's dormitory at International Mongolia School in Gwangjin-gu, Seoul, and two houses in Mapo-gu, Seoul whose residents suffer from dementia and mild cognitive impairment.
Protecting and Conserving Biodiversity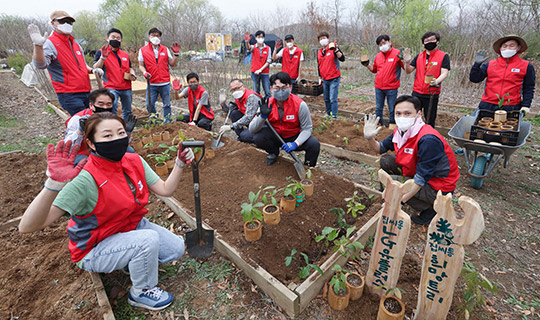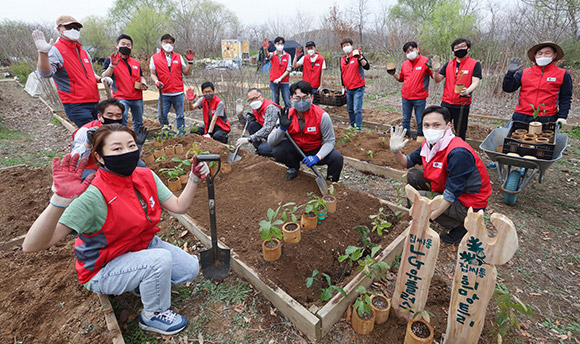 Forest-building for carbon neutrality

To reduce carbon emissions and restore the ecosystem, 300 employees planted acorn seeds in November 2020. The acorn seeds grew into one-span saplings for 100 days. LG U+ also carried out an event named "U+ Tree of Hope" in which these saplings were transplanted in Noeul Park, Sangam-dong, Mapu-gu, Seoul. These trees will be moved once again to a nearby forest two years after being taken care of by the Friends of Noeul Park.
400 kg of feed donated as part of a campaign to raise the awareness of stray animals

LG U+ carried out a social media campaign "Adopt, Don't Shop" via official Facebook and Instagram channels. It is a participatory campaign in which 100 g of feed will be donated every time a customer leaves a comment. For a month in September 2020, a total of 38,000 comments were posted, which resulted in about 400 kg of feed being donated to KARA, a shelter for stray animals.
XR content to protect endangered species

LG U+ collaborated with the World Wide Fund for Nature (WWF) to create XR content for the preservation of endangered species. A total of 16 endangered species such as the Siberian tiger, Madagascan big-headed turtle, and golden snub-nosed monkey are the main protagonists who share their story to raise our awareness of climate change and environmental pollution. U+ users can enjoy the content for free via U+ VR and U+ AR.
Using ICT to Close the Education Gap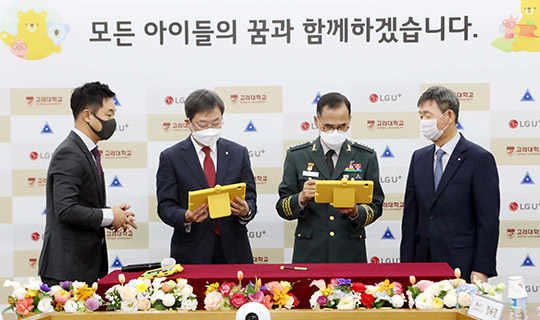 Child Care Project for Children in Yongsan-gu

LG U+ provided free "U+ Chodeung Nara," Smart tablets, Giga Internet, and Wi-Fi services for two years to 80 students of the Child Care Centers in Hyochang-dong and Yongmun-dong, Yongsan-gu. It was to close the education gap through homeschooling because these children rely heavily on afterschool programs without being able to benefit from the official school curriculum because of the COVID-19 outbreak.
Tailored Child Care Project for the Underprivileged Children in Seongnam-si

LG U+ offered free "U+ Chodeung Nara" and Smart tablets for self-directed learning to 150 elementary school students who were considered Seongnam's underprivileged group based on the social security big data collected by the Korea Social Security Information Service. Furthermore, it matched a university student volunteer with each of these students in Seongnam-si so that children can find peace of mind as they get help with the learning process.
Educational Project for Children from Military Families

LG U+ provided free "U+ Chodeung Nara" and Smart tablets to children from military families who are forced to move around to fulfill their duties and often find it difficult to adapt to a new environment. Moreover, by adopting a remote communication system, it also matches an elementary school student as a mentee with a Korea University student volunteer as a mentor to provide non-contact learning services that involve tutoring, discussion on current affairs, foreign language learning, and career mentoring.