Environmental Management
LG U+ has been making every effort to minimize the negative impact of business on the environment.
Based on LG's environmental goal "Green Way," it has additionally set top three management goals: "Create a green workplace,"
"Explore green business areas," and "Develop new green products."
LG U+ takes the initiative in environmental management by investing in "new green technologies and processes,"
expanding the business areas with low greenhouse gas emissions and developing eco-friendly ICT technology.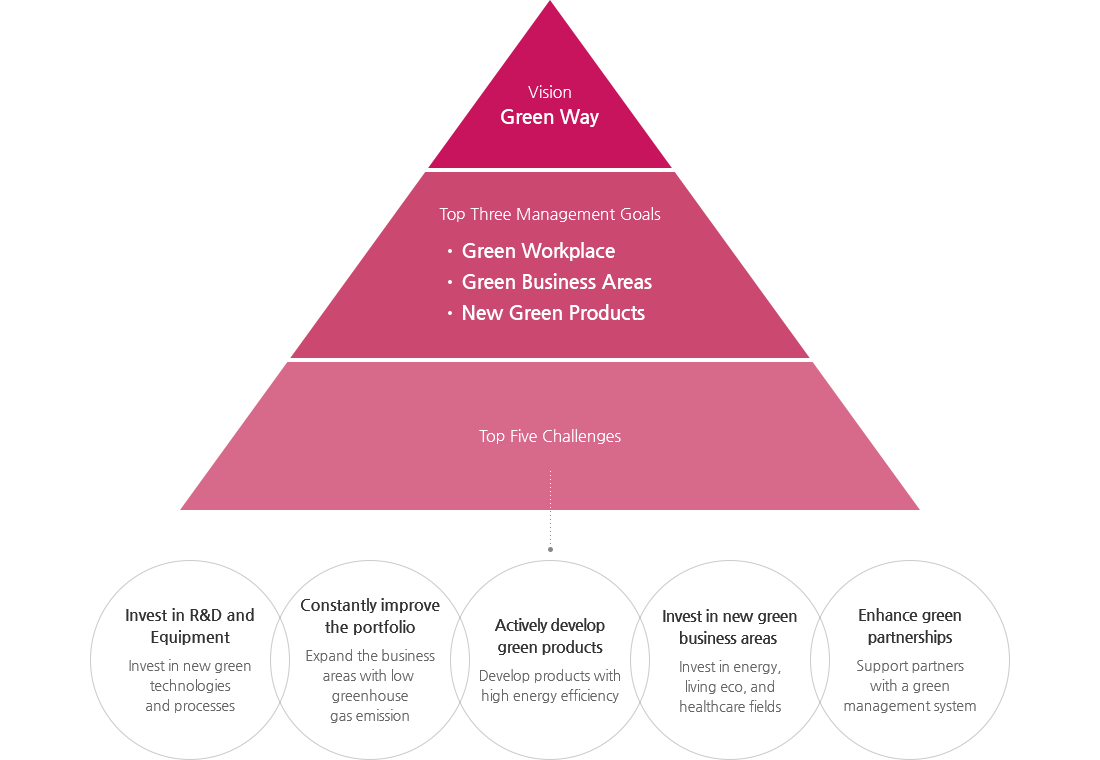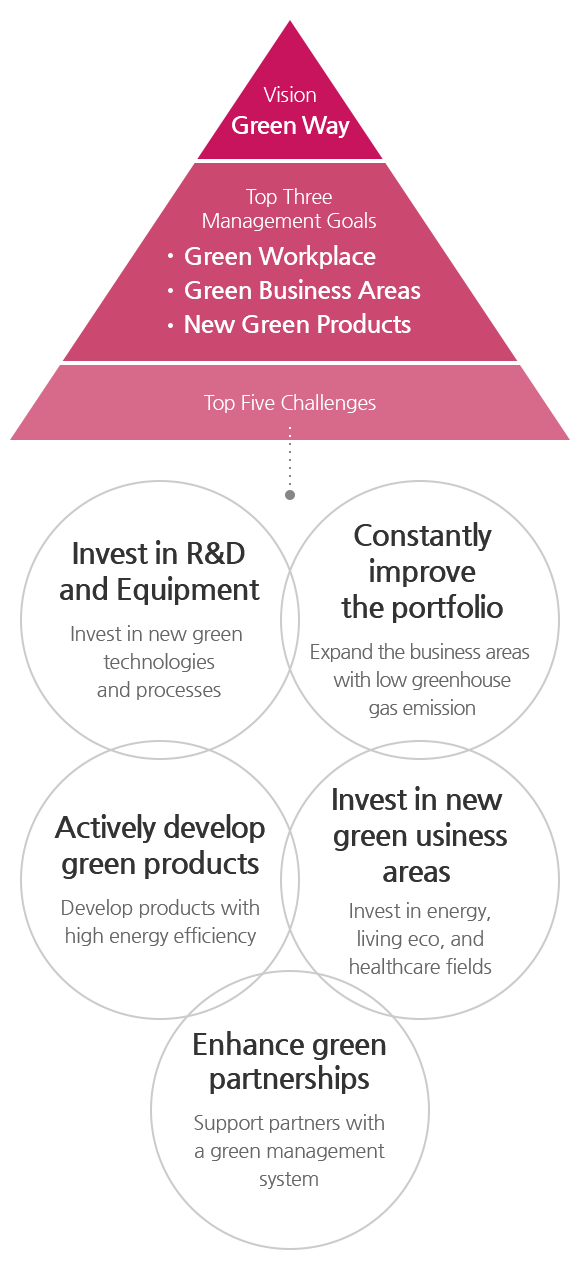 Environmental Management Teams
LG U+ has the executive-level working committee in the safety, health, and environment sectors at the ESG Committee under the Board of Directors.
Each team reports to the ESG working committee in the safety, health, and environment sectors about the outcomes of various business activities
that involve reusing waste, saving energy, managing greenhouse gas emissions, and responding to the initiatives on sustainability.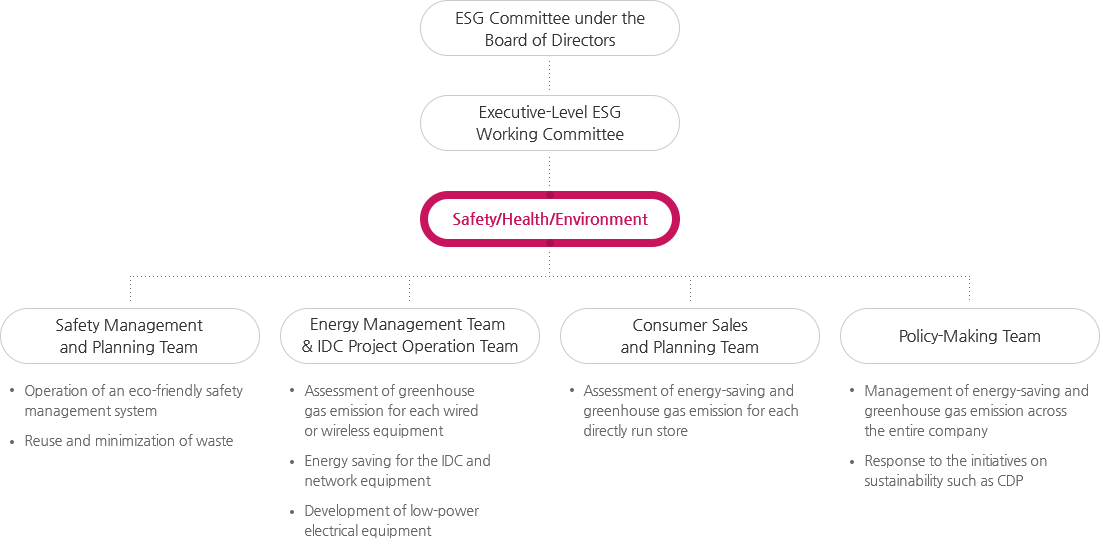 Eco-Friendly Water Resource Management
To manage water resources efficiently and eco-friendly, LG U+ has adopted a groundwater recycling system to its Yongsan Office building.
The system is equipped with a reprocessing facility that categorizes groundwater into drinking water, potable water, and heavy water.
As for drinking water, water quality tests are regularly performed.
Legal Waste Disposal
In 2020, LG U++'s waste recycling rate reached 95%, which was measured with licensed companies as targets.
Its 2021 goal is to surpass the waste recycling rate of 95%.
To do so, it has been carrying out various activities to reduce waste and improve recycling. Based on strict standards,
LG U+ has chosen its partner in charge of waste disposal through strict standard requirements.
All the business waste including waste wires and communications equipment is handled and disposed of in legal and eco-friendly ways.
Response to Climate Change
To respond to the climate crisis, LG+ strives to save energy and use renewable energy more.
LG U+'s Pyeongchon Mega Center, an IDC center, uses solar panels and the geothermal pump system to generate renewable energy. Its Yongsan Office building is also equipped with a rooftop solar power generation system to save energy.
Furthermore, it has been adopting and using renewable energy across different business areas by building solar-powered LTE base stations, particularly in isolated regions.
The geothermal pump system and solar panels
inside the IDC Pyeongchon Mega Center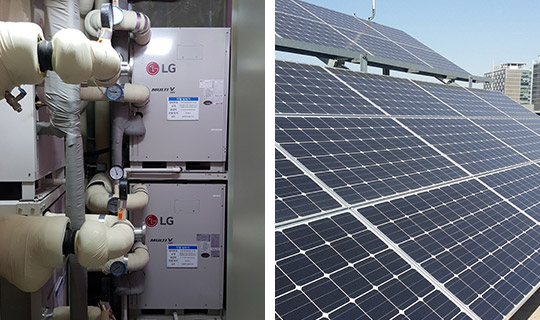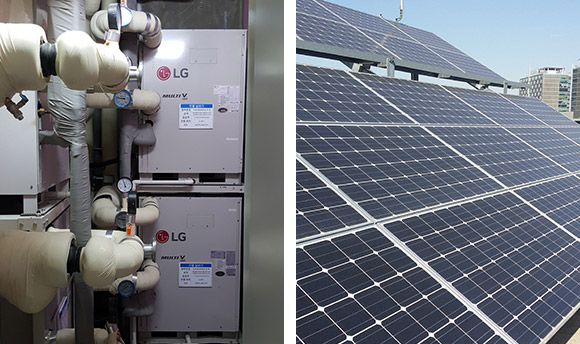 Solar panels on the rooftop
of the Yongsan Office building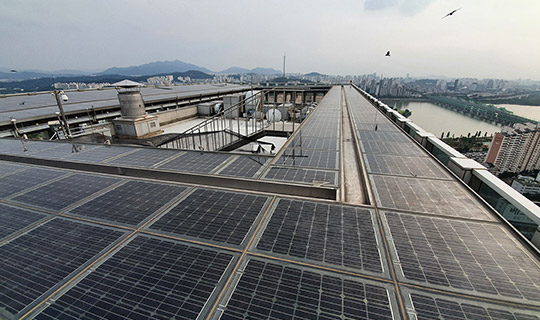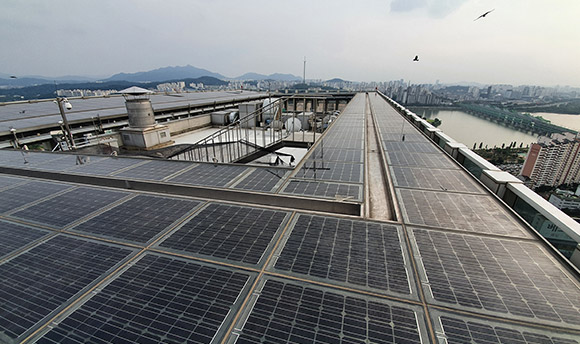 Participation in International Initiatives
LG U+ has been a participant of the Carbon Disclosure Project (CDP), a global disclosure system for assessing the environmental sustainability of a corporation.
It has been disclosing its strategies to respond to climate change and activities and outcomes to reduce greenhouse gas emissions every year.
In the 2020 assessment, it was listed on the "Carbon Management Sector Honors" including the top five companies with the highest scores across different sectors.
LG U+ also proved that it is an excellent company in terms of carbon management since it was listed on the "Sector Honors" including
the telecommunication service providers with the highest scores from 2014 to 2020 for seven consecutive years.
[Carbon Disclosure Project]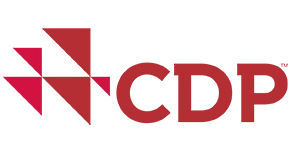 [Listed on the Carbon Management
Sector Honors by CDP Korea]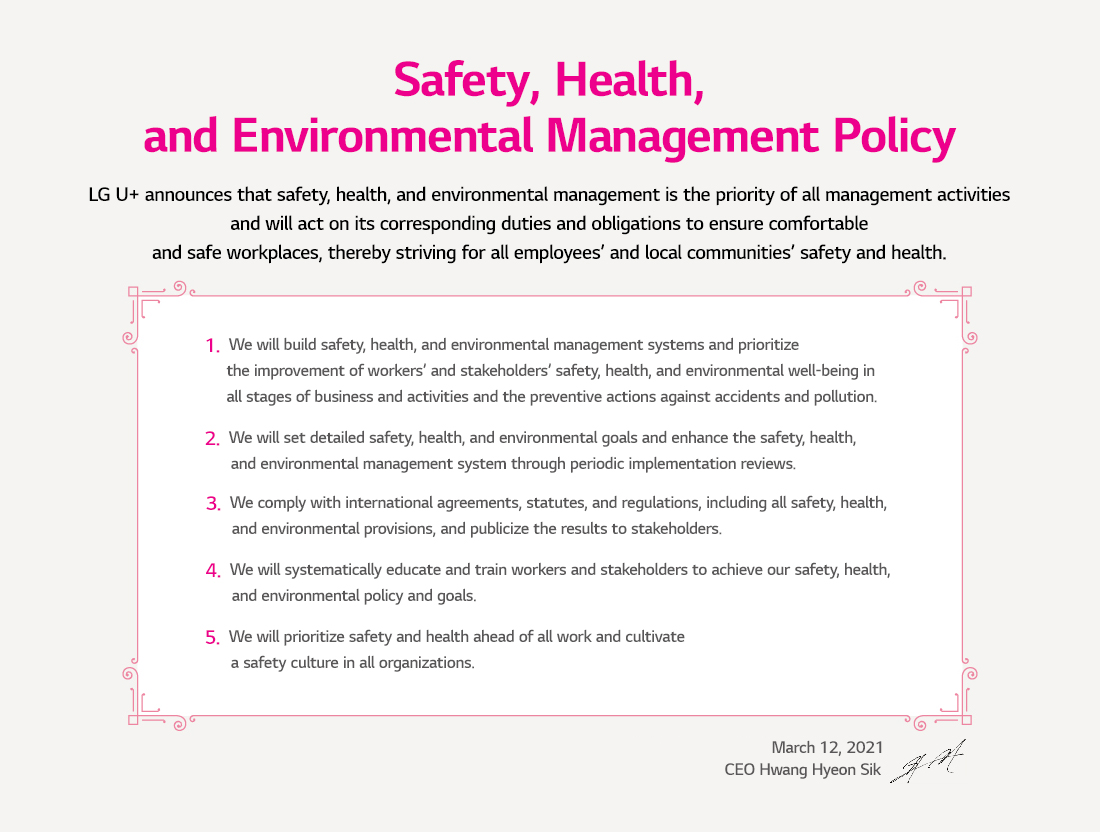 LG U+ announces thar safety, health, and environmental management is the priority of all management activities and will act on its corresponding duties and obligations to ensure comportable and safe workplaces, thereby striving for all employees' and local communities' safety and health.
1. We will build safety, health, and environmental management systems and prioritize the improvement of workers' and stakeholders' safety, health, and environmental well-being in all stages of business and activities and the preventive actions against accidents and pollution.
2. We will set detailed safety, health, and environmental goals and enhance the safety, health, and environmental management system through periodic implementation reviews.
3. We comply with international agreements, statutes, and regulations, including all safety, health, and environmental provisions, and publicizie the results to stakeholders.
4. We will systematically educate and train workers and stakeholders to achieve our safety, health, and environmental policy and goals.
5. We will prioritize safety and health ahead of all work and cutivate a safety culture in all organizations.
March 12, 2021. CEO Hwang Hyeon Sik