Information Protection
LG U+ exerts every effort to protect its customers' personal information and manage the service infrastructure based on international security standards.
For the first time as a telecommunication service provider, it has acquired the ISMS-P certification, an integrated certification combining information security and
personal information security systems. It further moved on to acquire "ISO 27001," an international information security certification,
for the core equipment to provide 5G services as well as for the "5G base station control and management system."
[An integrated certification combining
information security and personal
information security systems]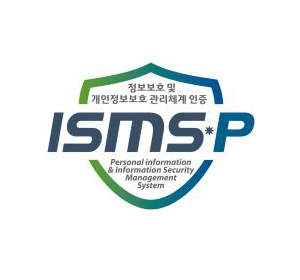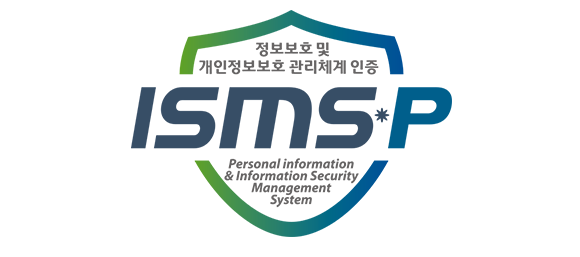 [Information Security Management
System Certificate]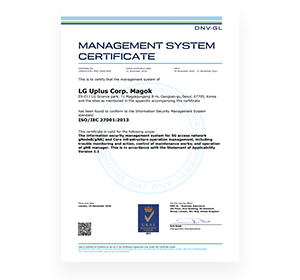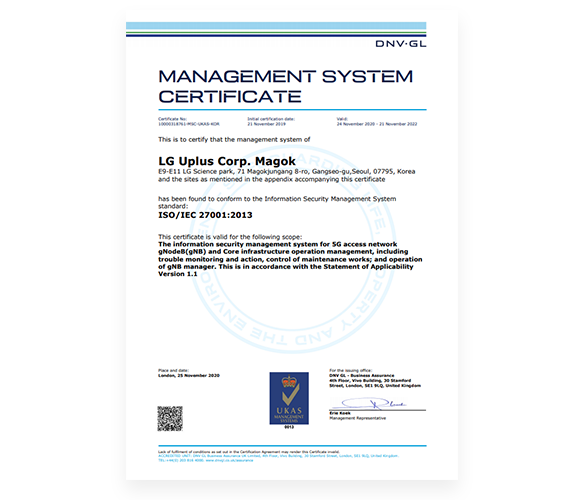 Network Security
To ensure network security, LG U+ has adopted post-quantum cryptography to networking devices exclusively for customers for the first time in the world.
The same technology will be applied to the digital new deal project in progress and the new services to be launched. Furthermore,
it is capable of monitoring DDoS attacks and protecting networks 24/7 for 365 days.
it also has been expanding the relevant facilities to respond to the large-scale DDoS attacks and advancing the defense system for IPv6-based DDoS attacks.
Damage Prevention Guidelines for Consumers
A damage prevention guide is made available on LG U+'s website. It gives an overview of preventive measures to damage that may occur as you use the mobile or network services.
It contributes to preventing or reducing damage by giving detailed instructions on how to respond to and report malicious codes, fake signups on scam websites, and banking scams.
User Security Performance Assessment
LG U+ listens to the voice of its customers, analyzes their needs, and promptly makes the necessary improvements in advance.
Any improvements made will be immediately shared with its customers and onsite workers.
Thanks to such efforts, LG U+ has obtained a "Very Excellent" grade both in the mobile communication and
ultra-high-speed Internet sectors in the "User Security Performance Assessment" conducted by the Korea Communications Commission.
Customer Services Using LG U+'s Security Technology
PC Security(E-DLP)

A service that encrypts or deletes files containing personal information on a PC and prevents other external storage devices from being connected to it as a way of preventing information leakage

Personal Information Package

A service that diagnoses the weaknesses of a computer for free and offers a personal information security solution

Data Encryption

A data security service that encrypts all kinds of corporate information ranging from database to regular files

Document Security(eDRM)

A cloud-based document security service that encrypts a company's confidential documents, images, layouts, etc.

U+Cloud Security

Next-generation security service for local branches that have a weaker Internet security system than the Headquarters does

APT Response Solution

An APT attack monitoring and blocking solution developed in collaboration with FireEye, the No. 1 cybersecurity company in the world